(Warning - This is a longer detailed post about our trip - I want to remember all the details about what we did and our likes and dislikes for future visits. Plus, this will be in the kids blog books I will print for them also)
Practically as soon as we got home from Disney World two years ago I started trying to figure out a way to get back for a Christmas trip. I saved my money and lots of texts and calls to our amazing Disney Travel Agent Rachel Robinson of
Pixie Vacations
and before I knew it we were all booked and ready to head back to the happiest place on Earth! I remembered loving it, but really had forgotten a little until we got back there just how much I love it. All the employees are so nice and accommodating- even when they are telling you no they find a way to make it sound nice and sweet. My mother-in-law (Meme to the kids) accompanied us on this trip and she was a great travel partner! She just went with the flow and was a big help with the kids! I was glad she got to see them so happy at Disney World too :)
One perk our Disney Travel Agent let us in on was free dining! During a certain time of the year, Disney usually does a promotion of free dining (meaning a free table service [nice restaurant], free quick service [more like fast food] and snack each day for each person). I highly recommend using an expert to help plan and make your reservations for your Disney trip (especially the expert we use). Planning your fast passes in a certain order to keep you from walking all over the park and making dining reservations so you can literally just walk right in to eat (I have seen places with waits of over 2 hours without a reservation before). Now, on to the details of our trip!
Ready to board the plane!
We flew out at 6:45 a.m. Monday morning and after a quick stop at the hotel (we stayed at the Caribbean Beach Resort again this time - love that resort!) to check-in and drop off our carry-on bags (Disney picks up our checked bags and takes them to the room for us) we were off to the Animal Kingdom. We were not sure how Ryan was going to like the roller coasters, but wanted her to try all the ones she was tall enough for. We missed the safari ride last time we were here so this was our first stop this time. It was really neat to see all the animals up close. (Side note, this was the first of 2 times that Nathan lost his wallet - luckily this time I saw it in the seat of the ride and got it, but of course didn't give it back to him without making him think he lost it first) After that it was lunch and we all rode Expedition Everest. Ryan hated it - it was not a good sign for her as far as roller coasters go. Then it was off to Dinosaur Land! We rode Dinosaur (traumatized Ryan a little more) and found some kiddie rides (which Ryan loved). We watched Finding Nemo - The Musical and Festival of the Lion King (Ryan's favorite part of the whole trip). Then it was dinner at Restaurantasaurus and to the hotel. Our bags were waiting on us when we got back. My mother-in-law and I walked down to the market at our hotel and used all our snack credits to buy stuff to eat for breakfast all week.
Tuesday was Ryan's big princess make-over at the Bibbidi Bobbidi Boutique! They put her in a dressing room where her Fairy Godmother talked to her in her magical mirror and then they fixed her hair, painted her nails and did her make-up. She was in heaven and looked so cute while being pampered! As soon as we walked out she whispered in my ear "momma, I need to do this again someday" :) We met up with Noah and Meme and he said "Ryan, you look beautiful" - melted Momma's heart!
Before
After
Then it was off to the Magic Kingdom! First was Space Mountain (once again, Ryan hated it). Then it was on to something I knew Ryan wouldn't hate - lunch at Cinderella's Royal Table. We got to meet and talk to Cinderella while we waited for our table. While we ate, Aurora, Snow White, Jasmine and Ariel came by to talk to the kids. Ryan really wanted to ask Cinderella where Lucifer (the cat) was and a nice employee let her back in to talk to her and ask her - Ryan's face was so priceless while talking to her.
Space Mountain
After lunch we did Enchanted Tales with Belle. Noah got to play the part of a dog turned into a foot stool and Ryan was the salt shaker :) Then it was time to ride Seven Dwarfs Mine Train - Ryan hated this too - I was hoping this one would be a coaster that she would like since it had the dwarfs on it, but no such luck. Ryan also got to meet Merida while wearing her Merida dress - it was so cute :) We had tickets for Mickey's Very Merry Christmas Party so we were able to stay after hours and there were small lines for rides. We rode "It's a Small World", Peter Pan's Flight, The Carousel of Progress, Buzz Lightyear's Space Ranger Spin, Astro Orbiter, Monsters Inc. Laugh Factory, and watched a concert. (Side note: while on the carousel of progress [a ride where the seats move around a stage showing how the world has changed since the turn of the century] I took my phone out of my pocket and sat it in my seat, then left it on the ride. I realized it pretty quickly but when I went back the ride was closed. The staff looked and had no luck. Then Nathan started calling it over and over and finally they saw it glowing and found it!) Then it was dinner at Pecos's Bill's Tall Tale Inn and Cafe before the Christmas Parade. They made it snow down Main Street and had a Christmas Parade - this was my favorite part. It was just so magical feeling watching a Christmas Parade in the snow - especially while not freezing to death!
Nathan was chosen to dance several times during the Monsters, Inc. Laugh Factory show :)
Wednesday was Hollywood Studios day. I was told that if I wanted my kids to participate in Jedi Training then I needed to be at the gate when they opened and head straight to sign-ups because the spots fill up fast. So, I got to the bus stop an hour before the park opened and waited, and waited and waited for a bus for Hollywood Studios. At 4 minutes before the park opened, one showed up and it was pretty full so Noah and I jumped on it and left the others to catch the next one so hopefully we could still get him signed up. Noah and I literally ran from the bus stop to the entrance (and of course Noah's fingerprint wouldn't work, so we had to reset his finger print and have his picture taken to make sure he was the one using his magic band each day) and then we ran to sign-ups. Ryan joined me in line later and we were number 192 and 193 to sign-up! We made it - and to make it even better they gave us a free fast pass to use later since I had to wait in line for about 30 minutes to sign them up. We rode Tower of Terror first - and while Noah loved it last time, he was not a fan this time. The actual ride didn't bother him, but the haunted hotel we had to go through to get to the ride did - I guess he was more aware of what they were saying this time around. Ryan, of course, wasn't a fan - she is just not (yet hopefully) into the more thrilling rides). Our other fast pass was for Star Tours - a virtual reality Star Wars ride. Noah love it, Ryan hated it, and I tried not to watch too close so I didn't get motion sick.
Tower of Terror
Meting Moana
We had lunch at Hollywood and Dine with some Disney Junior Characters. While we were eating, Sophia the First, Doc McStuffins, Jake, and Handy Manny came by to see us. Then it was time for Jedi Training! Ryan was a little scared when Darth Vader came out to fight her - but she still battled him. Noah was fearless and had a perma-smile the whole time! When it was over he said "can you believe I just defeated the Dark Side?" :) We used our bonus fast pass on Aerosmith's Rockin Roller Coaster - but Ryan wasn't tall enough for that so she and Meme went to meet Moana. Noah was very nervous about the Rockin' Roller Coaster, but as soon as it was over he said "this is the best roller coaster of my life!" He and Nathan rode it again right before it was time to leave. Our lunch came with reserved seating for Fantasmic. I went and parked the stroller and turned around and Nathan was gone - his mom informed me he had once again left his wallet on a ride. Luckily it was the ride he had just gotten off of but before he could walk back to it they had already had it turned in to the front gate. He made it back just in time to watch the show. Noah loves Wizard Mickey and we had great seats for the show!
Aerosmith's Rockin' Roller Coaster
Fantasmic
We reenacted this photo from two years ago with Ryan :)
Friday we went back to the Magic Kingdom. It is the biggest park with the most attractions so we like going to this one twice to get extra time on the rides. We started off our day with a splash on Splash Mountain! We did get pretty wet, but not soaked. Next up was the last coaster for Ryan to try - Big Thunder Mountain Railroad. She started off scared to death and something miraculous happened - she started smiling and lifted her arms in the air! When it was over she said "that was fun, I want to do it again" :) FINALLY! She even told the Disney employee that helped us off the ride "that was so much fun" and gave her a thumbs up! It was so cute! Next up was Seven Dwarfs Mine Train again - but Ryan didn't want to do it again. So, I switched Ryan and Meme's fast pass to go meet Ariel and we all met back up afterwards. We decided to spend the rest of our afternoon riding all the smaller rides for Ryan since we had done all the faster things all week. So, I was able to get us fast passes for The Pirates of the Caribbean, Aladdin's Magic Carpet and the Jingle Cruise. Ryan was in heaven :)
Finally some rides that were more Ryan's speed!
We wanted to spend our last night at Disney Springs watching the drone show and letting the kids shop at the Lego Store and Once Upon a Toy Store. The drone show was short (maybe 5 minutes) but was SO cool! All of a sudden the sky was lit up with what looked like stars and they moved around making pictures to music. It was such a cool experience and I plan to make it a trip tradition! After the show it was pretty busy around the Lego Store so we shopped but decided to wait and do the Lego races the next morning before we flew out. We had to head back to the hotel for a quick dinner and then to pack!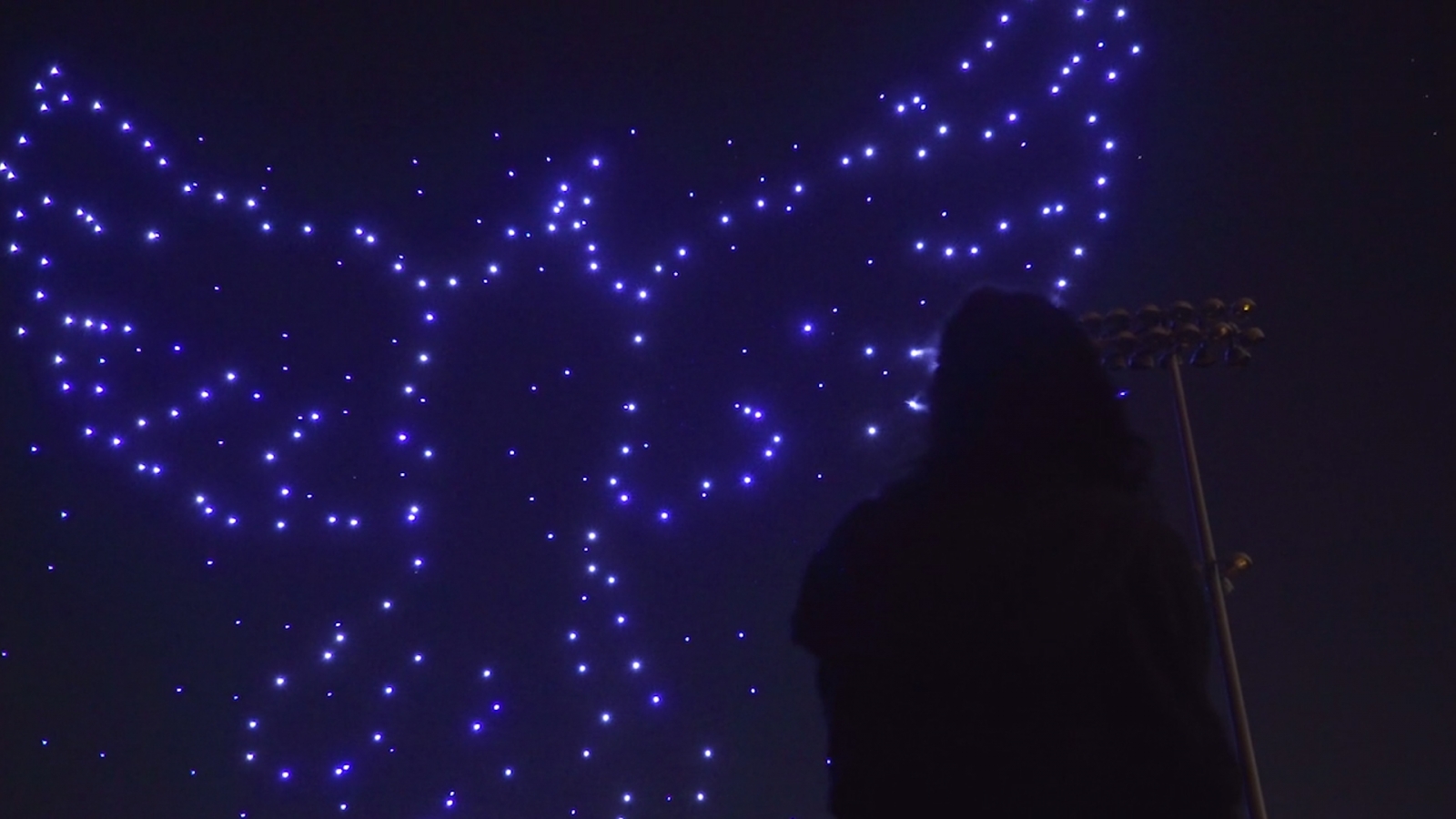 Bird made from drones at Disney Springs
On our last morning the kids and I walked down to the beach area and took some pictures, talked about our favorite part of the trip and told the hotel goodbye. Then we went back to Disney Springs to race Legos and have lunch at T-Rex.
We got to the airport around 2:30 p.m. for our 5:10 p.m. flight. Once we got there the monitor said our flight was delayed to 7:30. So, we had 5 hours to kill. We shopped a little and did some of Noah's homework. Then I got another text message that our flight was delayed again to 9:10 p.m.! So, we went and had dinner, finished Noah's homework and booked a hotel for Memphis because we knew we would not stay awake for that drive now. Our flight went smoothly until we got to Memphis. The captain said that the Memphis airport was not allowing anyone to land due to the storm but that he has predicted that so he got extra fuel before we left so we would circle around and wait until they opened up. I am not sure how long we circled because I kept falling asleep but it was around 45 minutes and then the pilot said we were cleared to land but it was going to be rough and no passengers or flight attendants were allowed to get up. That was the scariest landing I have ever had. Lightening right outside the window, lots of turbulence and the plane was moving around a lot. Noah was asleep so I was trying to keep him from bouncing into the floor. The lady behind me was crying. The lady beside me was praying. As soon as we landed and slowed down everyone began clapping and celebrating - it was just crazy! After a quick sleep in the hotel we headed back and made it home about 30 minutes before Noah's basketball tryouts - thrown right back into normal life!
This vacation was just amazing. The weather was great. The experiences were great. The kids were not great but they weren't terrible either - they were normal 4 and 6 year old siblings on vacation (I really need to apologize to my parents for fighting with my brother so much when we were little). We made some of the best memories that no one can take away from us. We seriously already know when we are going back and I cannot wait to book it and start planning it! I have had several people tell me that it looks like we had a great time - the pictures don't lie - it was a great time! Everyone's Disney experience is different, but I am a firm believer that proper planning and preparation make the trip so much better! So, until next time Disney - thanks for the memories!